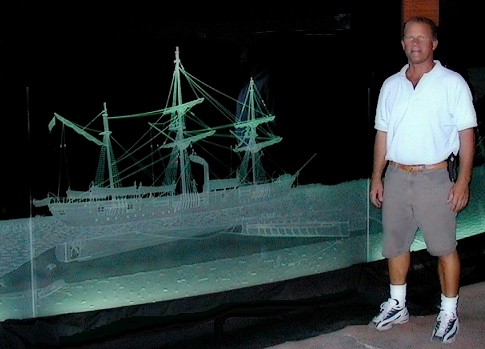 Charleston Harbor the night H L Hunley sank the Housatonic
5' H x 20' W
1.524 x 6.096 m
Treasure of the View by Lex Melfi
Sand Carved Glass
Lex Melfi was born and raised in Summerville , SC. He comes from a large Italian Catholic family that descended to Charleston in 1847. A strong work ethic was instilled in him from a very young age. As a young man, he took a job as a plumber and later became a structural ironworker. He had a passion for the outdoors and loved to travel. However, these professions did not allow him to experience life to its fullest potential. He moved to Carmel , California and was exposed to the art world with all of its cultural diversity. He was moved and inspired by art but did not realize at the time that he was an artist himself.
After living in Miami for four years and leaving his known profession behind, he was sent to a tempering plant to pick up a piece of tempered glass. After stepping out of his truck he discovered another vehicle parked with a piece of "sand carved glass". At the time, Lex did not know what the glass was called or how it was created. The beauty overwhelmed him. He told himself at that moment that this is what he wanted to do for a life long profession.
With much determination, Lex found someone to teach him how to do this work. His instructor found that he was a natural and within a couple of hours was able to create something that was marketable. He made a promise to his mentor that the process would not be shared with anyone else and that he would not go out on his own for at least 10 years. He kept his promise and years later moved back to his hometown of Summerville where he founded "Treasure of the View." He landed his first job thirteen years ago, carving eight panels that measured eight foot tall for the Bell Tower at Grace Episcopal Church in Charleston , SC. He later created a piece of The Charleston Harbor the night H L Hunley sank the Housatonic . It measured 5'H and 20'W and is being displayed at The Naval Weapons Station in Charleston .
His love for the outdoors and the sea inspired him to sail from San Louis Obispo, California to Miami through the Panama Canal . He spent an entire year on the boat studying marine life. He has toured Mexico City to go to the Museum of Anthropology , with much interest in The Ancient Mayan and Aztec Pyramids, Ruins and Civilizations. These experiences have led him to create some true masterpieces that have captured a realistic view of marine life in their habitat.
Utilizing his creative ideas and technical background, enhancement of light systems, and accent paints; help create the unique artwork that is now sought after.

What distinguishes Lex's artwork is his relentless pursuit of detail combined with his limitless imagination and innovative technical skill.

The process of sand carving involves digging into the glass rather than scratching the surface.

This gives the piece a more 3-dimentional appearance.

It is a very technical process and if not done correctly can easily fracture the glass.

His mastery of this art and his love for Mr. Harvey's work has led him to be commissioned by Scout Boats. He has created a piece depicting Mr. Harvey's work, in the form of sand carved glass, for all boats that are 32' and over.

Lex is a man with a vision, and endless opportunity at his doorstep, or rather sand carving booth.


Grace Memorial Bridge in
Charleston, South Carolina USA
5' H x 16' W
1.524 x 4.826 m
click on photo to see larger picture